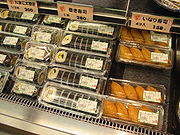 鮓, 寿斗, 寿し, 壽司?) is a Japanese food consisting of cooked vinegared rice (shari) combined with other ingredients (neta). Neta and forms of sushi presentation vary, but the ingredient which all sushi have in common is shari. The most common neta is seafood.
Raw meat sliced and served by itself is sashimi.
Ad blocker interference detected!
Wikia is a free-to-use site that makes money from advertising. We have a modified experience for viewers using ad blockers

Wikia is not accessible if you've made further modifications. Remove the custom ad blocker rule(s) and the page will load as expected.