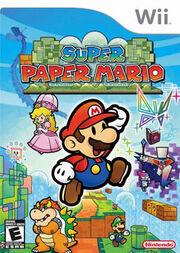 Super Paper Mario (スーパーペーパーマリオ, Sūpā Pēpā Mario?) is a platform style role-playing video game developed by Intelligent Systems and published by Nintendo. Originally developed for the Nintendo GameCube, it was released for the Wii in 2007. The style of gameplay is a combination of the previous Paper Mario titles and Super Mario Bros. titles. Unlike the RPG-style gameplay of previous Paper Mario games, the game combines platforming and RPG gameplay with puzzle elements. It is the third game in the Paper Mario series.
In 2011, the game has been re-issued as a Nintendo Selects title.
Ad blocker interference detected!
Wikia is a free-to-use site that makes money from advertising. We have a modified experience for viewers using ad blockers

Wikia is not accessible if you've made further modifications. Remove the custom ad blocker rule(s) and the page will load as expected.