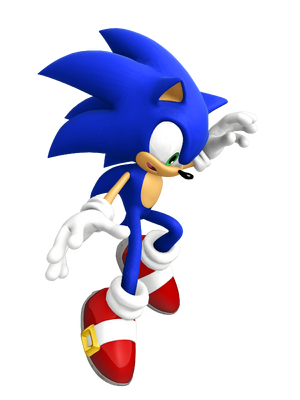 Sonic the Hedgehog (ソニック・ザ・ヘッジホッグ, Sonikku za Hejjihoggu?), trademarked Sonic The Hedgehog,[2] is a video game character and the titular protagonist of the Sonic the Hedgehog series released by Sega, as well as in numerous spin-off comics, cartoons, and a feature film. The first game was released on June 23, 1991, to provide Sega with a mascot to rival Nintendo's flagship character Mario (see 1991 in video gaming).[3][4] Since then, Sonic has become one of the world's best-known video game characters, with his series having sold more than 80 million copies.[5] In 2005, Sonic was one of the first game character inductees into the Walk of Game, alongside Mario and Link.[6]
While many individuals at Sega had a hand in Sonic's creation, programmer Yuji Naka and artist Naoto Ōshima are generally credited with the creation of the character,[7] a blue 15-year-old anthropomorphic hedgehog, who has the ability to run at supersonic speeds and the ability to curl into a ball, primarily to attack enemies. This is a major part of the gameplay of the series.
Ad blocker interference detected!
Wikia is a free-to-use site that makes money from advertising. We have a modified experience for viewers using ad blockers

Wikia is not accessible if you've made further modifications. Remove the custom ad blocker rule(s) and the page will load as expected.