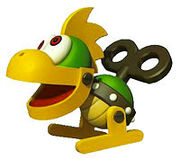 Mecha-Koopas
, also called
Windup Koopas
in the
New Super Mario Bros. Wii
game guide, are one of
Bowser
's many minions. They are small mechanical versions of
Bowser
himself, resembling a wind-up toy. They have a wind-up key on their back and their appearances feature several mechanical appendages. They walk in a rhythmical way and must wind themselves up again from time to time in order to keep moving.
Ad blocker interference detected!
Wikia is a free-to-use site that makes money from advertising. We have a modified experience for viewers using ad blockers

Wikia is not accessible if you've made further modifications. Remove the custom ad blocker rule(s) and the page will load as expected.