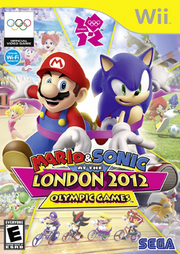 Mario & Sonic at the London 2012 Olympic Games is a sports title for the Wii and Nintendo 3DS and the third installment of the Mario & Sonic series. New sports, such as football and Equestrain, along with other athletic events, debut in the Wii version, while 50 new and original sports are confirmed to appear in the 3DS version.[4] All twenty playable characters return from the previous installment[5]. The game takes place in London, home of the 2012 Summer Olympics.
Ad blocker interference detected!
Wikia is a free-to-use site that makes money from advertising. We have a modified experience for viewers using ad blockers

Wikia is not accessible if you've made further modifications. Remove the custom ad blocker rule(s) and the page will load as expected.