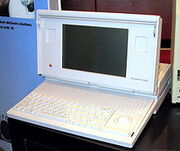 he Macintosh Portable was Apple Inc.'s first attempt at making a battery-powered portable Macintosh personal computer that held the power of a desktop Macintosh. It was also the first commercial off-the-shelf portable computer used in space and the first to send an email from space, in 1991 aboardSpace Shuttle mission STS-43.
Released on September 20, 1989, it was received with excitement from most critics but with very poor sales to consumers. It featured a black and white active-matrix LCD screen in a hinged cover that covered the keyboard when the machine was not in use. The mouse function was handled by a built-in trackball that could be removed and located on either side of the keyboard. It used expensive SRAM in an effort to maximize battery life and to provide an "instant on" low power sleep mode.
Ad blocker interference detected!
Wikia is a free-to-use site that makes money from advertising. We have a modified experience for viewers using ad blockers

Wikia is not accessible if you've made further modifications. Remove the custom ad blocker rule(s) and the page will load as expected.