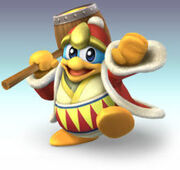 King Dedede (also spelled King DeDeDe or King DDD) is a major recurring antagonist (and anti-hero) to Kirby in Nintendo and HAL Labs' long-running Kirby video game series, appearing in every game except the game Kirby & the Amazing Mirror, making him the most recurring major character of the series besides Kirby and Waddle Dee. He is the greedy self-proclaimed king of Dream Land, which is located on the quaint planet Pop Star.
Due to an ambiguous description of the geography of Pop Star, it is never made entirely clear how much of the planet King Dedede assumes leadership of, though he seems to have castles and fortresses all across the planet. Even so, he seems to perform no administrative functions, and for the most part, the planet seems to ignore any edicts that are issued by him.
Ad blocker interference detected!
Wikia is a free-to-use site that makes money from advertising. We have a modified experience for viewers using ad blockers

Wikia is not accessible if you've made further modifications. Remove the custom ad blocker rule(s) and the page will load as expected.