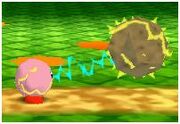 Electric Rock is a combo ability from Kirby 64: The Crystal Shards. When Kirby combines Stone with Spark, he gets this ability. It is one of Kirby's more abstract abilities; He spits out a rock, connected by electricity from his body (as if it were a flail). He can still move while he is using it, but cannot float. The rock will bounce off of walls but the electric wire can go through them.
Ad blocker interference detected!
Wikia is a free-to-use site that makes money from advertising. We have a modified experience for viewers using ad blockers

Wikia is not accessible if you've made further modifications. Remove the custom ad blocker rule(s) and the page will load as expected.